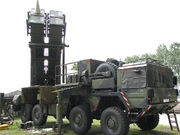 The MIM-104 Patriot is a surface-to-air missile (SAM) system, the primary of its kind used by the United States Army and several allied nations. Patriot uses an advanced aerial interceptor missile and high-performance radar systems. It is manufactured by the U.S. defense contractor Raytheon and derives its name from the radar component of the weapon system. The AN/MPQ-53 at the heart of the system is known as the "Phased Array Tracking Radar to Intercept on Target" which is a backronym for PATRIOT. The Patriot System replaced the Nike Hercules system as the U.S. Army's primary High to Medium Air Defense (HIMAD) system, and replaced the MIM-23 Hawk system as the U.S. Army's medium tactical air defense system. In addition to these roles, Patriot has been given the function of the U.S. Army's anti-ballistic missile (ABM) system, which is now Patriot's primary mission. The system is expected to stay fielded until at least 2040.
The Patriot system gained notoriety during the Persian Gulf War of 1991 with the claimed engagement of over 40 Iraqi Scud missiles, those claims became a source of controversy. The system was successfully used against Iraqi missiles in 2003 Iraq War, and has been also used by Saudi and Emirati forces in the Yemen conflict against Houthi missile attacks. The Patriot system achieved its first undisputed shootdowns of enemy aircraft in the service of the Israeli Air Defense Command. Israeli MIM-104D batteries shot down two Hamas UAVs during Operation Protective Edge on August 31, 2014 and later, on September 23, 2014, an Israeli Patriot battery shot down a Syrian Air Force Sukhoi Su-24 which had penetrated Israeli airspace, achieving the first shootdown of a manned enemy aircraft in the world for the system.
The Israelis had several Patriot missile batteries, one of which defended Jerusalem. The Iranians launched three missiles at Israel in retaliation for the removal of the Dome of the Rock from the Temple Mount. The battery defending Jerusalem tracked the missiles but did not launch anti-missiles since the Iranian missiles just disappeared with only a flash on the radar screens.[1]
References
[
]