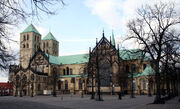 Münster Cathedral
or
St.-Paulus-Dom
is the cathedral church of the
Roman Catholic
Diocese of
Münster
and is dedicated to
Paul the Apostle
. It is counted among the most significant church buildings in Münster and, along with the City Hall, is one of the symbols of the city.
The cathedral had two predecessors. The first cathedral (called the Ludgerus Dom, 805-1377) stood to the north of the current cathedral; the second cathedral was built in the 10th or 11th century and was demolished during the construction of the third and current cathedral between 1225 and 1264. The imposing westwerk with its nearly identical towers was built as part of the second cathedral around 1192 and was incorporated into the current building. As a result, the cathedral is a mixture of styles, combining the Romanesque westwerk, old choir and west towers with the Gothic nave, transepts, high choir and ring of chapels.
The cathedral contains the tomb of the former Bishop of Münster, Clemens August von Galen.
Münster Cathedral became an important symbol against Adolf Hitler and the Nazis during the Second World War. One of the key critics of the Nazi regime was Münster's Catholic bishop, Clemens August von Galen, who was critical of Nazis' euthanasia programs. Finally, after years of von Galen's criticisms, Hitler ordered the bishop arrested, prompting a round of demonstrations in Münster. In the spring of 1943, another demonstration in the square outside of the Cathedral erupted into violence when police officers fired on the crowd. While several protesters were shot, other were able to charge the line of police, inflicting damage in return.[1] In response, the German government sent the SS into Münster, who fortified the Cathedral for the duration of the war.[2] While the people of Münster publicly accepted martial law, resentment boiled just below the surface.[3]
References
Edit
Community content is available under
CC-BY-SA
unless otherwise noted.