The Lower East Side is a neighborhood in the southeastern part of the New York City borough of Manhattan. It is roughly bounded by Allen St., E. Houston, Essex St., Canal St., Eldridge St., E. Broadway, and Grand St. It has traditionally been an immigrant, working class neighborhood, but it has undergone rapid gentrification in recent years, prompting The National Trust for Historic Preservation to place the neighborhood on their list of America's Most Endangered Places.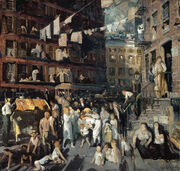 The Lower East Side was a working-class neighborhood of New York City. Despite social traditionalism, the neighborhood is politically liberal and overwhelmingly supports the Socialist Party most years (it was Flora Blackford's district), though it did elect a Democratic Congressman during the disastrous Blackford Administration.
As of the 1910s, the Lower East Side had the distinction of being the only place in the world where Jews made up a majority. By the 1940s, however, the sprawling immigrant enclave had become dominated by the descendants of the immigrants who had established it. Accordingly, it became more conservative politically than it had when Blackford was first elected, though she remained popular.
The neighborhood was damaged by Confederate bombs in the Second Great War. Following the war, Captain Alex Swartz drafted plans for rebuilding the neighborhood to make it more spacious and comfortable, less working-class. These plans were accepted by the impressed Flora Blackford, who allowed Federal money to be used for the project.