Lon Chaney
Historical Figure
Nationality:
United States
Date of Birth:
1883
Date of Death:
1930
Cause of Death:
Cancer
Occupation:
Actor, screenwriter
Spouse:
Cleva Creighton (divorced 1915);
Hazel Hastings
Children:
Creighton Chaney (aka Lon Chaney, Jr.)
Fictional Appearances:
Leonidas Frank "Lon" Chaney (April 1, 1883 – August 26, 1930), nicknamed "The Man of a Thousand Faces," was an American actor during the age of silent films. He was one of the most versatile and powerful actors of early cinema. He is best remembered for his characterizations of tortured, often grotesque and afflicted characters, and his groundbreaking artistry with film makeup. His most famous roles include Quasimodo in The Hunchback of Notre Dame and Erik, the eponymous Phantom of the Opera.
Chaney died of lung cancer. His son Creighton followed in his father's footsteps, billing himself as "Lon Chaney" or "Lon Chaney, Jr."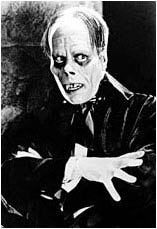 Lon Chaney played the title role in the silent horror film classic Phantom of the Catacombs. During the Second Great War, Leonard O'Doull and Vince Donofrio reflected on the film while operating on an injured soldier. O'Doull suggested that a talking version should be made, but Donofrio suggested that any new actor who took the role would be compared unfavorably to Chaney.[1]
References