Leonidas the Priest was a wing commander in the Army of Franklin during the Detinan Civil War. He was also a priest of the Lion God.
Leonidas was not among the best generals that "King" Geoffrey's army had to offer. He had a name for praying for victory rather than fighting for it. At the Battle of the River of Death, his slowness to attack as ordered allowed General Guildenstern's forces to withdraw.
After that battle, Thraxton the Braggart tried to blame Leonidas for his own failure to exploit what would be the Northerners' last major strategic victory of the war. He sacked Leonidas and Dan of Rabbit Hill of their commands following the battle. James of Broadpath supported his two colleagues by pushing for the removal of Thraxton, thus delaying the removal of both Leonidas and Dan. Geoffrey supported his friend Thraxton and upheld he removal of Leonidas. Command of the priest's wing passed to Roast Beef William.
However, Leonidas returned to the army the following spring, commanding a wing under Joseph the Gamecock. He commanded his wing for part of the Marthasville campaign. Along with the rest of the Army of Franklin's senior commanders, he spied on Hesmucet's advancing loyalist army from Cedar Hill. Hesmucet ordered a catapult to fire on them, and Leonidas was killed by the boulder the engine fired.
Literary Comment
[
]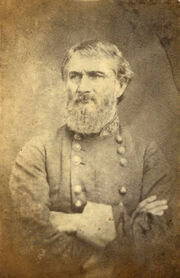 Leonidas is closely based on Bishop and General Leonidas Polk.