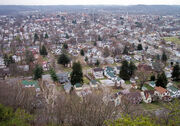 Lancaster is a city in Fairfield County, Ohio. As of the 2000 census, the city population was 35,335. It is located near the Hocking River, approximately 33 miles southeast of Columbus.
Lancaster is the birthplace of William Sherman.
In 1943 Brigadier General Irving Morrell's attempt to encircle the major remaining Confederate Forces in Ohio was slowed by a strongpoint on Mount Pleasant in Lancaster. While bypassing such strongpoints where he could, this one was too strong for Morrell to avoid taking.
First reducing the defences with artillery and divebombers, Morrell's forces then took the fortifications by storm. Afterwards, Morrell bivouacked by Lancaster to regroup.
It was while attacking a fleeing Confederate convoy outside Lancaster that Morrell and his personal command of barrels first came under fire from Confederate anti-barrel rockets.