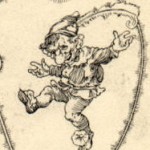 The
kobold
(occasionally
cobold
) is a sprite stemming from
Germanic
mythology and surviving into modern times in
German
folklore.
Although usually invisible, a kobold can materialize in the form of an animal, fire, a human being, and a candle. The most common depictions of kobolds show them as humanlike figures the size of small children. Kobolds who live in human homes wear the clothing of peasants; those who live in mines are hunched and ugly; and kobolds who live on ships smoke pipes and wear sailor clothing.
Belief in kobolds dates to at least the 13th century, when German peasants carved kobold effigies for their homes. Such pagan practices may have derived from beliefs in the mischievous kobalos of ancient Greece, the household lares and penates of ancient Rome, or native German beliefs in a similar room spirit called kofewalt. Certain aspects of kobolds are analogous to goblins, gnomes, dwarves, and other spirits.
The name of the element cobalt comes from the creature's name, because medieval miners blamed the sprite for the poisonous and troublesome nature of the typical arsenical ores of this metal (cobaltite and smaltite) which polluted other mined elements.
A tribe of kobolds from Germany ran a mining operation in Greece until they were evicted by humans, and turned their eyes to the Faerie kingdom of Oberon and Titania.
Community content is available under
CC-BY-SA
unless otherwise noted.