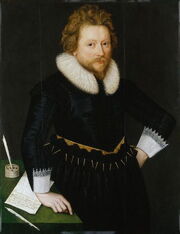 John Fletcher
(17 December 1579 – August 1625) was a
Jacobean
playwright. Following
William Shakespeare
as house playwright for the King's Men, he was among the most prolific and influential dramatists of his day; both during his lifetime and in the early
Restoration
, his fame rivaled Shakespeare's. Though his reputation has been far eclipsed since, Fletcher remains an important transitional figure between the
Elizabethan
popular tradition and the popular drama of the Restoration.
Fletcher is best known for approximately a dozen "Beaumont and Fletcher" plays co-written with Francis Beaumont between 1606 and 1614. He also produced three works with Shakespeare himself - Henry VIII, The Two Noble Kinsmen, and Cardenio - in addition to other works both co-written and solely written.
In 1613, Fletcher wrote a play called Bonduca (sic), about the Iceni Queen who led a Revolt against Roman rule in 1st-century Britain. Harry Turtledove incorporated extensive passages from this play into his novel Ruled Britannia, where they are presented as being from Boudicca, a play written by the alternate version of Shakespeare presented in the novel. Among the Fletcher elements carried over are the conflation of Caratach's revolt with Boudicca's (even though the two insurrections happened a decade apart and involved different tribes) and minor characters created by Fletcher, including Hengo. While Turtledove acknowledges this in the novel's afterword, he incorrectly attributes some of Fletcher's inventions to ancient Roman documents within the novel itself.
Community content is available under
CC-BY-SA
unless otherwise noted.