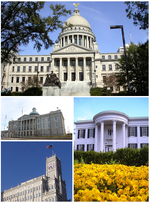 Jackson
is the capital and the most populous city of the
U.S.
State of
Mississippi
. The 2000 census recorded Jackson's population at 184,256.
In 1942 a black waiter made himself into a "people bomb" in Jackson, detonating explosives he had strapped to his body, killing himself and eleven white women at a ladies' club meeting being held in his restaurant. This so called Jackson Incident led to President Jake Featherston ordering the town's entire black population of 25,000 to 30,000 people to be rounded up and shipped to Camp Determination where their "population" was immediately "reduced".
Capitals of the United States by jurisdiction
Nation (OTL):
States (OTL):
Territories (OTL):
States (Ficitional):
Community content is available under
CC-BY-SA
unless otherwise noted.