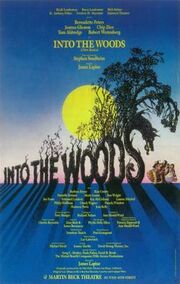 Into the Woods is a musical with music and lyrics by Stephen Sondheim and a book by James Lapine. The musical intertwines the plots of several German, English, and French fairy tales, exploring the consequences of the characters' wishes and quests. The main characters are taken from "Little Red Riding Hood", "Jack and the Beanstalk", "Rapunzel", and "Cinderella", as well as several others. The musical debuted in San Diego at the Old Globe Theatre in 1986 and premiered on Broadway on November 5, 1987, where it won several Tony Awards.
Trina Hutchinson used several characters, settings, and props from Into the Woods in her mash-up of Sondheim elements to face off against Brent Birley's Webberites in the virtual world.
The Woods themselves were a key setting in the first round of the Sondheim-Webber battle, with The Wolf, The Witch, and Jack being among the Sondhead champions.
References
[
]