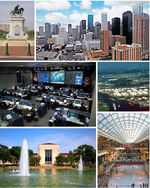 Houston is the fourth-largest city in the United States and the largest city in the state of Texas.
Houston was founded on August 30, 1836. The city was incorporated on June 5, 1837, and named after then-President of the Republic of Texas, Sam Houston. It was Texas' capital from then until 1839 when it moved to Austin.
As Texas had a labor shortage, slaves were dearer there than in the eastern part of the Confederacy. In 1865, one man bought several slaves at Josiah A. Beard's auction in Nashville, North Carolina for the express purpose of transporting them to Houston for resale at a few hundred dollars profit.[1]
In mid-1934, torrential rains in Texas washed out a bridge between Houston and Beaumont, forcing the Sunset Limited to detour through Nacogdoches for re-coaling before continuing east on a different route. This twist of fate proved very fateful for four particular passengers on the train.[2]
Houston was the largest city near Humble. It was here that Raymond Pinkard, the son of Jefferson Pinkard was born in 1944.[3] Jefferson Pinkard was imprisoned, tried and executed in Houston in 1945.[4]
Although they shared the same name, the city of Houston was never within the boundaries of the U.S.-created State of Houston, which was in fact a few hundred miles away from the city. Jefferson Pinkard once remarked on how damnably confusing that was.
References
[
]