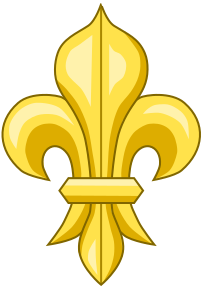 The Holy Alliance was a military alliance and political union of France, Spain, and their colonies and constituent nations. One of the three major powers of the globe, the Alliance maintained a substantial empire on the Continent of Europe, as well as abroad.[1] The Alliance was engaged in a multi-lateral cold war with Britain and Russia.[2]
The House of Bourbon was the reigning dynasty of the Alliance. In the late 20th century, the Alliance was ruled by King François IV, who held court at Versailles.[3] The Alliance secret police force of Inquisitors had a negative reputation in the British Empire.
The flag of the Alliance bore a fleur-de-lys.
In this time period, the Alliance supported the terrorist group Sons of Liberty, which was active in the North American Union, with arms and money - a completely opportunistic alliance aimed at embarrassing a rival, since obviously the Holy Alliance had little in common with the ideology of the "Sons," and had no interest in creating a precedent of colonies breaking away and becoming independent.
In 1995, one such plot was uncovered, leading to the expulsion of the Alliance ambassador, Le Comte Philippe Bonaparte, from American soil.
References
[
]
The Two Georges

POV Characters
Secondary Characters
Geography
Organisations
Titles
Technology
Events