Harold Macmillan
Historical Figure
Nationality:
United Kingdom
Date of Birth:
1894
Date of Death:
1986
Cause of Death:
Natural causes
Religion:
Anglican
Occupation:
Author of Non-Fiction, Publisher
Spouse:
Lady Dorothy Macmillan (d. 1966)
Children:
Four
Military Branch:
British Army
(World War I)
Political Party:
Conservative Party
Political Office(s):
Member of Parliament for Bromley and Stockton-on-Tees,
Prime Minister of the United Kingdom
Fictional Appearances:
Maurice Harold Macmillan, 1st Earl of Stockton, OM, PC (10 February 1894 – 29 December 1986) was a British Conservative politician and Prime Minister of the United Kingdom from 10 January 1957 to 18 October 1963. A protege of Winston Churchill, Macmillan pushed for a mixed economy, and presided over a period of affluence in the country. He also helped mend the relationship between the UK and the United States, which had soured some in the aftermath of the Suez Crisis.
The last year of Macmillan's government was rocked by the separate John Vassall and John Profumo scandals. He resigned and lived out a long retirement.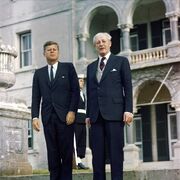 Prime Minister Harold Macmillan met with United States President John F. Kennedy in 1963 for a summit at 10 Downing Street. Macmillan's government was embroiled in the Profumo Scandal; people on the street called out insults at Macmillan. Kennedy, however, was met with adulation.
Unknown to Macmillan, Kennedy was magically transported to the historical Cam'lod'n over night. While Kennedy had initially believed his trip to be a dream, Macmillan began their meeting by noting an American dime had been found with otherwise undisturbed post-Roman artifacts in Colchester, confirming for Kennedy that he had not been dreaming.
Harold Macmillan was part of the group of disgruntled MPs gathered together by Ronald Cartland after Britain allied with Germany in mid-1940. When Cartland brought Sgt. Alistair Walsh into the fold, Macmillan made a short speech about the dangers Neville Chamberlain's government was courting by aligning with Adolf Hitler. Walsh observed that Macmillan moved his arm stiffly and concluded Macmillan had been wounded in the last war.[1]
See also
[
]
References
[
]