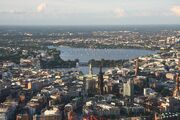 Hamburg is the second-largest city in Germany and the sixth-largest city in the European Union. The city is home to approximately 1.8 million people. Hamburg is also a city-state and one of the sixteen States of Germany. People from Hamburg are called Hamburgers, a name also given to the universally popular steak first marketed in the city.
Hamburg was a major city of the Kaiser's Germany. In the 21st Century it - together with Berlin, Breslau and Muenchen - became world-famous for its fast changing skyline. A great number of skyscrapers were going up all over Hamburg, using advanced engineering methods which the Germans did not share with other countries.
When Professor Blaustein departed for Hamburg, he had Steve Whortleberry cover his classes back home in Berkeley.
In 1942, during the Second Great War, a British drive on Hamburg was halted west of the city. The following year, the British were pushed back from Hamburg, across Germany, and into the Netherlands.
In 1944, Hamburg was destroyed by a British superbomb.
The Race destroyed Hamburg with an explosive-metal bomb in 1943 after Germany destroyed Race-held Rome.