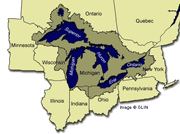 The Great Lakes are a group of five large freshwater lakes (Superior, Michigan, Huron, Erie, and Ontario) between the United States and Canada and form the industrial heartland of North America.
During the Second Mexican War, the British dominated the Great Lakes and shelled various U.S. lakeshore cities.
Prior to the Great War, the U.S. and Canada both fortified their respective shores and established naval forces in the lakes. During the Great War, the Great Lakes saw fierce fighting which ended in U.S. victory.  The subsequent occupation of Canada by the U.S. insured that the U.S. remained dominant in the Great Lakes.  
In the early stages of the Second Great War, the Confederate offensive reached the shores of the Great Lakes (specifically Lake Erie), cutting the US in two - greatly increasing the importance to the Americans of lake-borne transportation, though this had to run the gauntlet of Confederate attacks.
During Operation Coalscuttle, the ability of the U.S. Navy to supply Irving Morrell's forces by water was of major importance in the ultimate US victory.
Since the early 19th Century, the westward advancing North American Union came to control all shores of the Great Lakes, making them part of its internal waterways.
The northern shore was part of the large province of Canada. The southern shore was divided among a number of Provinces of the NAU, including New Guernsey, Illinois, Wilberforce, Tippecanoe, Miami, The Six Nations and New York.[1]
See also
[
]
References
[
]
The Two Georges

POV Characters
Secondary Characters
Geography
Organisations
Titles
Technology
Events