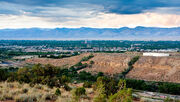 The City of Grand Junction is the largest city in western Colorado. It is a Home Rule Municipality that is the county seat and the most populous town or city of Mesa County. According to 2007 City of Grand Junction and Mesa County estimates, the population of the city is 53,662. Grand Junction is the 15th most populous city in the State of Colorado and the most populous city on the Colorado Western Slope.
In 1934, Grand Junction was the largest city in Colorado west of the Rocky Mountains, which meant it was still pretty small.[1] They had a popular semipro baseball team, the Falcons, who played in Lincoln Park.[2]
The House of Daniel had been scheduled to play the Falcons two days after the end of the Denver Post semipro tournament. However, the outbreak of the Great Zombie Riots of 1934 meant that they didn't play until four days after the tournament.[3] House manager Harv Watrous was able to get the game postponed. When the House did arrive, they were ballyhooed for having both won the semipro tournament and for having survived the riots.[4] The House beat the Falcons, 7-1. The Falcons were good sports though, and wanted hear about the tournament and the riots, so both teams went to dinner.[5]
Grand Junction in "Vilcabamba"

[

]
When the Krolp invaded the United States, they quickly overran Washington, DC. Then President Harris Moffatt I escaped Washington just in time, and set up a new de facto capital in Grand Junction, with a misnamed "Oval Office" serving as the Presidential mansion. It remained the capital up until the administration of Harris Moffatt III. When the U.S. launched its failed uprising to prevent the Krolp from stripmining in Utah, the center of government was briefly transferred to Craig, and Grand Junction was leveled by the Krolp two days into the uprising. However, the citizenry of Grand Junction had already fled, and the data stored at Mesa State College (among other places) was moved to another location.
References
[
]