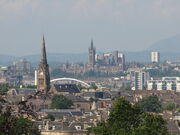 Glasgow is the most populous city in Scotland, and the third most populous city in the United Kingdom, as of the 2017 estimated city population of 621,020. Historically part of Lanarkshire, the city now forms the Glasgow City council area, one of the 32 council areas of Scotland; the local authority is Glasgow City Council. Glasgow is situated on the River Clyde in the country's West Central Lowlands.
Early in the Great War, American ship Clan Matheson flew under a British flag and claimed to be based in Glasgow. However, German leviathan commander Karl von Müller saw through the ruse.[1]
Veterinary surgeon George Holley matriculated in Glasgow before entering into a practice in Thrsk, Yorkshire.[2]
References
[
]