Georgy Zhukov
Historical Figure
Nationality:
Russian citizen of the Soviet Union (born in the Russian Empire)
Date of Birth:
1896
Date of Death:
1974
Cause of Death:
Stroke
Religion:
Eastern Orthodox (officially atheist under the Soviets)
Occupation:
Soldier, Politician, Military Governor
Spouse:
Alexandra Dievna Zuikova divorced),
Galina Alexandrovna Semyonova
Children:
Four daughters
Military Branch:
Imperial Russian Army (World War I);
Red Army (World War II)
Political Party:
Communist Party of the Soviet Union
Political Office(s):
Soviet Defense Minister
Fictional Appearances:
The Man With the Iron Heart


POD: May 29, 1942;
Relevant POD: May, 1945
Type of Appearance:
Direct
Date of Death:
1945
Cause of Death:
Wood alcohol poisoning
"The Last Article"


POD: c. 1940
Type of Appearance:
Posthumous reference
Date of Death:
1946
Cause of Death:
Shot in the back of the head (WWII)
Georgy Konstantinovich Zhukov (Russian: Георгий Константинович Жуков; 1 December 1896 – 18 June 1974) was a Soviet general and Marshal of the Soviet Union. He also served as Chief of the General Staff, Minister of Defense, and was a member of the Presidium of the Communist Party (later Politburo). Zhukov oversaw some of the Red Army's most decisive victories during World War II.
Born to a poor peasant family from central Russia, Zhukov was conscripted into the Imperial Russian Army and fought in the First World War. He served in the Red Army during the Russian Civil War. Gradually rising through the ranks, by 1939 Zhukov had been given command of an army group and won a decisive battle over Japanese forces at Khalkhin Gol, for which he won the first of his four Hero of the Soviet Union awards. In February 1941, Zhukov was appointed as chief of the Red Army's General Staff.
Following the German invasion of the Soviet Union, Zhukov lost his position as chief of the general staff. Subsequently, he organized the defense of Leningrad, Moscow, and Stalingrad. He participated in planning several major offensives, including the Battle of Kursk, and Operation Bagration. In 1945, Zhukov commanded the 1st Belorussian Front; he took part in the Vistula–Oder Offensive, and the Battle of Berlin, which resulted in the defeat of Nazi Germany, and the end of the war in Europe. In recognition of Zhukov's role in the war, he was chosen to accept the German Instrument of Surrender, and inspect the Moscow Victory Parade of 1945.
After the war, Joseph Stalin came to view Zhukov's success and popularity as a potential threat. Stalin stripped him of his positions and relegated him to military commands of little strategic significance. After Stalin's death in 1953, Zhukov supported Nikita Khrushchev's bid for Soviet leadership. In 1955, he was appointed as Defense Minister and made a member of the Presidium. With his popularity again on the rise, Zhukov lost favor again in 1957 and was forced to retire by the party. He never returned to a position of influence, and died in 1974.
Georgy Zhukov (1896-1945) was a long-time rival of Ivan Koniev. As Zhukov was Joseph Stalin's favorite, he was given the privilege of taking Berlin, a fact that nettled Koniev up until a few minutes before his death in May 1945.[1]
Zhukov was killed when members of the German Freedom Front poisoned liquor at the Schloss Cecilienhof in Potsdam with wood alcohol at the New Years' Eve celebration on 31 December 1945.[2]
Georgy Zhukov in Worldwar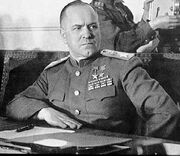 When the Race's Conquest Fleet arrived in 1942, Marshal Georgy Zhukov was initially forced to make huge concessions of Soviet territory to the unexpected and far more advanced enemy. However, Zhukov pioneered innovative tactics which overcame the Race's technological superiority through the use of superior Soviet numbers (at tremendously high cost to his army) and increasingly short supply reserves for the Race (this probably saved Zhukov from Joseph Stalin's wrath). Zhukov turned the tide, stabilized the front, and began retaking territory from the Race, especially after the Soviet Union deployed an explosive-metal bomb near Kaluga.[3]
After the war Zhukov remained Marshal of the Red Army. Following Stalin's death, Zhukov, Lavrenti Beria of the NKVD and Foreign Commissar Andrei Gromyko became General Secretary Vyacheslav Molotov's most important advisers.[4] Molotov trusted neither Zhukov nor Beria and attempted to play them off against each other; the two had a deep-seated rivalry between them.[5] The power balance shifed in 1963, when Beria and the NKVD attempted a coup against Molotov, and Zhukov suppressed it.[6] After briefly considering becoming General Secretary himself, Zhukov restored Molotov to power, but Zhukov felt at liberty to use the veiled threat of launching his own coup to influence Molotov's policy decisions. Ultimately, he continued to respect Molotov's authority for the remainder of his career.[7][8]
In 1966, Zhukov found a new obsession in the form of a Canadian-American invention called the Furry.[9]
After years of fighting, Georgy Zhukov (1896-1946) conceded defeat to German forces led by Field Marshal Walther Model in 1946 outside Kuibishev. Model allowed Zhukov a few last words to his troops before he had him shot.[10]
By 1940, Georgy Zhukov was one of the only generals who was named specifically in Radio Moscow reports, suggesting he was successful against the "Hitlerites".[11]
Georgy Zhukov (1896-c. 1937) was one of several generals who were purged by Joseph Stalin between 1936 and 1938. In 1947, years after the Soviet Union had fallen to Germany, guerrilla leader Fedor Tolbukhin reflected on those purges, and realized they had virtually assured his country's defeat.[12]
See Also
References
Military offices
(OTL)
Preceded by
Kirill Meretskov
Chief of the Staff of the Red Army
1941
Succeeded by
Boris Shaposhnikov
Political offices
(OTL)
Preceded by
Nikolai Bulganin
Minister of Defense of Soviet Union
1955–1957
Succeeded by
Rodion Malinovsky
Articles Related to Georgy Zhukov