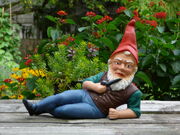 Garden gnomes (German: Gartenzwerge, lit. "garden dwarfs") are lawn ornament figurines of small humanoid creatures known as gnomes. Traditionally, the figurines depict male dwarfs wearing red pointy hats. Typically, gnomes stand between one and two feet (30 and 60 cm). A recent trend has introduced miniature gnomes of only a few inches in height. Garden gnomes originated as a decoration for wealthy Europeans, possibly deriving from the Roman of placing small stone statues of protective gods in gardens. Today they are prevalent in gardens and lawns throughout the western world, among all social classes.
The fad of "liberating" or "travelling" garden gnomes became widely publicized in France in the 1990s. The perpetrator steals a gnome from a garden, and then sends the owner photos of the gnome for a period of time as a practical joke, before returning it. This fad even created organized groups such as Le Front de libération des nains de jardin (the Garden Gnome Liberation Front), which states its "mission" to "liberate" garden gnomes from other people's property, without the intention of returning them, and "return them to the wild", which has sometimes led to criminal prosecution.
During the garden gnome liberation fad of the 1990s, Saint-Clément students Alizon Riand, Raquel Guibert, and Becca Milleron formed the Garden Gnome Freedom Front to "liberate" pieces of statuary and return them to their "wild" habitat. On one occasion, their "charges" came to life, revealed as sentient beings who only achieved consciousness during certain phases of the moon.