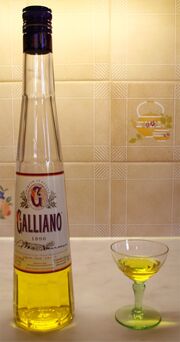 Liquore Galliano L'Autentico, known more commonly as Galliano, is a sweet herbal liqueur, created in 1896 by Italian distiller and brandy producer Arturo Vaccari of Livorno, Tuscany and named after Giuseppe Galliano, a career officer of the Royal Italian Army.
The Harvey Wallbanger, whose invention is variously reported between 1952 and 1971, is a mixed drink made with vodka, Galliano, and orange juice.
Galliano was still being produced in the 30th century. Ella Metchnikova, a citizen of planet Saugus with a hobby of recreating ancient drinks, did not understand why, as it seemed to be nothing but high-proof sugar syrup with yellow food coloring. But it was good for making Harvey Wallbangers (Galliano + ethanol + orange juice), which Metchnikova did one night for her distraught colleague Jennifer Logan.[1]
References
[
]