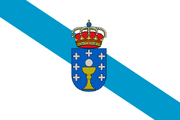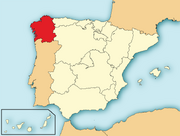 Galicia is an autonomous community and historic region in northwest Spain. Galicia maintains the status of a historic nationality, and descends from one of the first kingdoms of Europe, the Kingdom of Galicia. It is constituted under the Galician Statute of Autonomy of 1981. Its component provinces are A Coruña, Lugo, Ourense and Pontevedra. It is bordered by Portugal to the south, the Spanish regions of Castile and León and Asturias to the east, the Atlantic Ocean to the west, and the Bay of Biscay to the north.
People from Galicia fled the nascent Spain for Atlantis shortly after its discovery in 1452.[1] Like the Basques, the Galicians explored further west, eventually arriving at Terranova.[2] Nueva Galicia, an island in the Bay of Mexico, was one such early Galician settlement.[3]
Community content is available under
CC-BY-SA
unless otherwise noted.