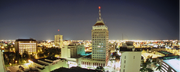 Fresno is the sixth-largest city in California, and the seat of Fresno County. It is located in the expansive Central Valley.
In the Summer of 2031, Fresno hosted a gathering of reactionaries who opposed Pacifican independence. The Fresno Convention aimed to draft their own secession resolution. However, thanks to the efforts of Pacifica's acting president, Nicole Yoshida, and the attendees' own general inertia, the Fresno Convention was a failure.[1]
Fresno was home to the headquarters of Consolidated Cropdusting, an agricultural business which operated throughout the Central Valley. In 1952, World War III aviator Bruce McNulty joined this company.[2]
In 1934, Fresno was the raisin capital of the world.[3] More mundanely, Fresno was the home of a healthy Armenian population, who used garlic to both in cooking and to keep vampires away.[4]
Because the minor league Oakland Oaks actually practiced in Fresno, a local semipro team, the Fresno Acorns, had to become the best semipro team in town in order to be viable opponents.[5]
The House of Daniel played the Acorns on August 5, 1934 on an incredibly hot day. The House won, 4-3, but in later years all Jack Spivey would remember were the heat and the win.[6]
Joe Steele, the 32nd President of the United States, was born in Fresno in 1878, shortly after his parents emigrated from the Russian Empire province of Georgia. Steele served on Fresno's city council early in his political career.
References
[
]
Joe Steele
Works
POV Characters
Secondary Characters
Events
Geography