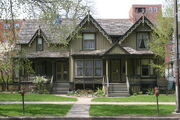 Frances Willard House was the home of Frances Willard and her family in Evanston, Illinois, and was the longtime headquarters of the Woman's Christian Temperance Union (WCTU). Willard called the house Rest Cottage because it became a place for her to rest in between her tours and WCTU activities.
Willard left the house to the WCTU in her will. The WCTU made it its national headquarters, and later converted it into a museum dedicated to Willard. On June 23, 1965, the house was declared a National Historic Landmark by the National Park Service.
Frances Willard House in Worldwar

[

]
During the Battle of Chicago, Lt. Mutt Daniels and Sgt. Herman Muldoon were ordered to nearby Evanston, where they took refuge in the Frances Willard House, a memorial to the founder of the Woman's Christian Temperance Union. Daniels took this time to tell Muldoon of his disdain for the WCTU, and to contemplate of the similarity of Frances Willard's personal life with that of his recently deceased friend Lucille Potter.[1]
References
[
]