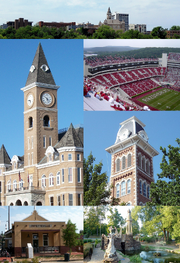 Fayetteville
(formerly Washington) is a city in Washington County,
Arkansas
,
United States
. The city is the third most populous in Arkansas and serves as the county seat of Washington County. Fayetteville, Arkansas is known as the "Track Capital of the World" for being the home of the University of Arkansas' track and field program.
Fayetteville had generally opposed the Freedom Party before and during the Second Great War. Its mayor was taken to a prison camp outside Huntsville, South Carolina until his liberation by U.S. forces in 1944.[1]
Camp Constitution, a refugee camp established by FEMA after the Yellowstone Supervolcano eruption, lay between Muskogee, Oklahoma and Fayetteville[2] or Fort Smith[3], Arkansas.
References
Edit
Community content is available under
CC-BY-SA
unless otherwise noted.