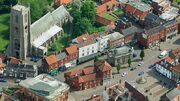 Fakenham is a town and civil parish in Norfolk, England, United Kingdom. It is situated on the River Wensum, some 19 mi (31 km) north east of King's Lynn, 19 mi (31 km) south west of Cromer, and 25 mi (40 km) north west of Norwich.
Fakenham was the home of Daisy Baxter and her pub, the Owl and Unicorn. Despite Fakenham's small size, Daisy managed to keep the pub going thanks in part to the U.S. Air Force and RAF base located in nearby Sculthorpe.[1] While Fakenham hadn't been attacked in World War II, its close location to Sculthorpe and Norwich made it more vulnerable during World War III.[2] In April 1951, the Soviets launched a bombing raid on Sculthorpe using conventional explosives which also hit Fakenham.[3]
Fakenham was destroyed on 11 September 1951, when the Soviets deployed an atom bomb against Sculthorpe. The resulting explosion effectively leveled the town, although there were several survivors thanks to the distance between the two locations.[4]
References
[
]