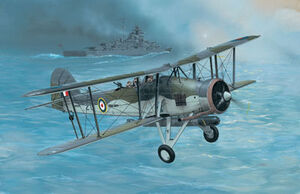 The Fairey Swordfish was a torpedo bomber built by the Fairey Aviation Company and used by the Fleet Air Arm of the Royal Navy during World War II. Affectionately known as the "Stringbag" by its crews, it was outdated by 1939, but achieved some spectacular successes during the war. It was operated primarily as a fleet attack aircraft; however, during its later years, it was also used as an anti-submarine and training craft.
The Fairey Swordfish, also known as the Stringbag, was a two-decker British torpedo bomber used during the Second Great War. They were equipped with torpedoes and machine guns for anti-shipping operations. Most American naval personnel considered the aircraft to be slow, ugly and more primitive than the Japanese aircraft they had encountered earlier.
Several of these were deployed against the US vessels, including the Josephus Daniels, which were supplying both men and munitions off the Irish coast to the Irish irregulars fighting the British occupation forces. A gun crew commanded by P.O. Clem Thurman and including George Enos Jr. shot down a Swordfish bomber before it could launch a torpedo. However, the vessel soon came under attack from modern British fighters killing Thurman.
Community content is available under
CC-BY-SA
unless otherwise noted.