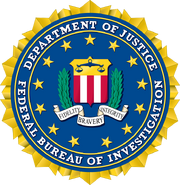 The Federal Bureau of Investigation (FBI), formerly the Bureau of Investigation (BOI), is the domestic intelligence and security service of the United States, and its principal federal law enforcement agency. Operating under the jurisdiction of the U.S. Department of Justice, the FBI is also a member of the U.S. Intelligence Community and reports to both the Attorney General and the Director of National Intelligence. A leading U.S. counter-terrorism, counterintelligence, and criminal investigative organization, the FBI has jurisdiction over violations of more than 200 categories of federal crimes.
The FBI was established in 1908 as the Bureau of Investigation, the BOI or BI for short. Its name was changed to the Federal Bureau of Investigation (FBI) in 1935. The FBI headquarters is the J. Edgar Hoover Building, located in Washington, DC.
Under first Donald Trump, then Mike Pence, the FBI was increasingly corrupted by the authoritarian direction of the United States,[1] helping to collect immigrants and enemies of the U.S.[2]
Not every FBI agent was loyal to Pence. In 2031, Patrick O'Donnell, a senior FBI agent in Los Angeles, gave a flash drive of material to Nicole Yoshida, the acting president of the breakaway republic of Pacifica, that proved Pence and other Republicans were beholden to the Russian government.[3]
The Confederal Bureau of Investigation (CBI) handled domestic security in the Confederated Provinces. The Aztecian terrorist plot of 1993 fell not into their purview, but that of Central Intelligence.[4]
The Government Bureau of Investigation was the primary investigative agency of the United States. It had its roots in the Department of Justice's Bureau of Investigation, an agency President Joe Steele made ample use of in his first term. BoI agent J. Edgar Hoover colluded with the Steele Administration in creating evidence against Congressmen who opposed Steele's Four Year Plan. Hoover and the BoI "investigated" and arrested the Supreme Court Four for treason in February 1934.
The BoI became the Government Bureau of Investigation in 1937 after Roland Laurence South attempted to assassinate Steele, and given free rein to detect "enemies" of the country. Most of these "spies" were people in the government or military or civilian life who had dared to protest against Steele's rule or just criticized Steele's policies.
Members of the GBI were nicknamed the Jeebies from the acronym but not in public where an individual could be overheard and reported.
Certain supporters of the continued U.S. Army presence in Germany vaguely wondered if J. Edgar Hoover's FBI might be used to crack down on occupation-dissenters. When a briefing officer suggested this opinion in a press conference in mid-1946, he was met with outrage from those present. This included promises to sue Hoover if the FBI took such steps.[5]
In March 1942, the FBI shut down The New Yorker for sedition, prompting other newspapers to accuse President Roosevelt's Administration of forcibly quieting its critics.
See also
[
]
References
[
]
Joe Steele
Works
POV Characters
Secondary Characters
Events
Geography