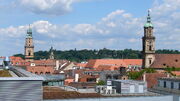 Erlangen is a Middle Franconian city in Bavaria, Germany. It is located at the confluence of the river Regnitz and its large tributary, the Untere Schwabach. Erlangen has more than 100,000 inhabitants.
Erlangen became infamous in the uprising staged by the German Freedom Front. In July, 1945, Erlangen saw the first German "suicide bombing", when a Werewolf agent sat down among a few American GIs watching a baseball game with explosives strapped to his body and blew himself up. Bernie Cobb was a witness to this event.
The following year, German politician and Nazi opponent Konrad Adenauer was assassinated during a GFF mortar attack at a rally in Erlangen.