"Hindsight"


POD: 1949
Type of Appearance:
Contemporary reference
Occupation:
Monarch of the United Kingdom and the Commonwealth Realms
Elizabeth II (Elizabeth Alexandra Mary Windsor, born 21 April 1926) is the Queen of the United Kingdom, as well as an additional fourteen independent states and their overseas territories and dependencies, since 6 February 1952. Though she holds each crown and title separately and equally, she is resident in and most directly involved with the United Kingdom. On 9 September 2015, her reign reached a milestone of 63 years, 7 months, and 4 days, the longest for any British Monarch in history. On 6 February 2022, the Platinum Jubilee marked Elizabeth's 70-year reign. In June 2022, she became the second-longest-reigning monarch of any Eurasian nation in history, and currently falls only behind King Louis XIV of France. (Some German monarchs reigned longer than 73 years, but were local rulers subordinate to larger states, and claimed titles lower than king/queen.)
Elizabeth II in "Hindsight"

[

]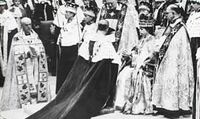 Elizabeth II's coronation in June 1953 was being discussed on the radio when Pete Lundquist discovered that Mark Gordian had somehow plagiarized an unpublished work.[1]
A few days later, after Jim McGregor had arrived in Los Angeles to confront Gordian, he had dinner with Pete. Among other things, the two discussed the coronation. Lundquist thought that it was remarkable that film of the event in the United Kingdom was shown the same day on television in the United States since the networks were able to receive it by jet. McGregor agreed but was still dissatisfied and said that he would have preferred one of Arthur Clarke's relay satellites showing it as it happened.[2]
Elizabeth II in Worldwar

[

]

Elizabeth II was the monarch of Britain when the Race's Colonization Fleet arrived in 1962.[3] She exercised limited authority over Britain proper.[4]
See also
[
]
References
[
]