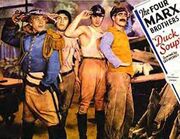 Duck Soup
is a 1933
Marx Brothers
musical-comedy film written by Bert Kalmar and Harry Ruby, with additional dialogue by Arthur Sheekman and Nat Perrin, and directed by Leo McCarey. The central character is Rufus T. Firefly, head of state of a nation called Freedonia. The plot has Firefly organizing resistance to an invasion by neighboring Sylvania, in between sharing numerous jokes with his cabinet ministers. First released theatrically by Paramount Pictures on November 17, 1933, it starred
Groucho Marx
as Firefly,
Chico Marx
and
Harpo Marx
as two impostors, and
Zeppo Marx
(in his final acting appearance) as Firefly's secretary Bob. It also featured Margaret Dumont, Louis Calhern, Raquel Torres and Edgar Kennedy.
While contemporaneous critics felt that Duck Soup did not quite meet the standards of its predecessors, critical opinion has evolved and the film has since achieved the status of a classic. Duck Soup is now widely considered among critics to be a masterpiece of comedy, and the Marx Brothers' finest film. In 1990, it was selected for preservation by the National Film Registry as being "culturally, historically, or aesthetically significant".
In 1934, the Marx Brothers found themselves at a career crossroads. Their most recent film Duck Soup, had not done as well as their previous films. Consequently, Paramount Studios had refused to renew their contract. At ends, they decided to go to New Orleans via the Sunset Limited.[1]
Heavy storms in Texas forced the train to detour to Nacogdoches. The group was somewhat sentimental about Nacogdoches, as it was here, while performing a near-disastrous show in 1912, that the brothers realized they were better comics than song-and-dance men, and so adopted a new act.[2] However, Nacogdoches also tied into Duck Soup, although only Julius Marx remembered the connection: Nacogdoches had been home to the failed Republic of Fredonia in December 1826-January, 1827, and the Marx Brothers had used the name "Freedonia" for the fictional country featured in the film.[3]
References
Edit
Community content is available under
CC-BY-SA
unless otherwise noted.