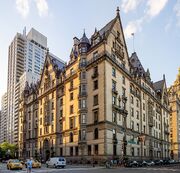 The Dakota, also known as the Dakota Apartments, is a cooperative apartment building on the northwest corner of 72nd Street and Central Park West in the Upper West Side of Manhattan in New York City. The Dakota was constructed between 1880 and 1884, and was designed by Henry Janeway Hardenbergh.
The Dakota has historically been home to many artists, actors, and musicians, including ex-Beatle John Lennon, who was murdered in the archway of the building in 1980. The New York City Landmarks Preservation Commission designated the building as a city landmark in 1969, and it was added to the National Register of Historic Places in 1972.
When time traveling in New York in 1905, 21st-century Los Angeles Angels Joshua Kaplan and Keyshawn Fredericks passed by The Dakota. Both knew that the then-unborn John Lennon would one day live there, and were awed by how little it had changed by 2040, which caused them to think of a plot point in the novel and movie Time and Again.[1]
References
[
]