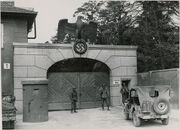 Dachau concentration camp (German: Konzentrationslager (KZ) Dachau), was the first of the Nazi concentration camps opened in Germany, located on the grounds of an abandoned munitions factory near the medieval town of Dachau, about 16 km (9.9 mi) northwest of Munich in the state of Bavaria, which is located in southern Germany. Opened 22 March 1933 (51 days after Hitler took power), it was the first regular concentration camp established by the coalition government of the National Socialist Party (Nazi Party) and the German Nationalist People's Party (dissolved on 6 July 1933). Heinrich Himmler, then Chief of Police of Munich, officially described the camp as "the first concentration camp for political prisoners."
Dachau's infamy had already spread to America by 1935. In that year, Mike Sullivan saw its parallels with President Joe Steele's special prison camps for inmates drafted out of state to work on the "Four Year Plan". This was the basic thesis of Sullivan's article "Land of the Free and the Home of the Labor Camp".[1]
After the Generals' Plot failed to remove Adolf Hitler from power, the surviving perpetrators of the coup were sent to Dachau. Despite its terrifying reputation, many Germans still talked about it. Whenever it was brought up, it was enough to kill a conversation.
References
[
]
Joe Steele
Works
POV Characters
Secondary Characters
Events
Geography