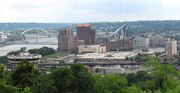 Covington
is a city in Kenton County,
Kentucky
,
United States
. It is one of two county seats of Kenton County. Covington is located at the confluence of the Ohio and Licking Rivers.
Covington, Kentucky was the home of the Drivers when Kentucky was part of the Confederate States. Early in the Great War, Covington was occupied by the United States, a situation that pleased the black citizens of Covington, but angered the whites. Covington became a hot-bed of rebellious activity, as whites sought to force the U.S. out, and Red rebels sought to thwart the white rebels.
Cincinnatus Driver and his family left Covington for Des Moines, Iowa after the Great War ended. Driver returned to Kentucky to convince his parents to come to Des Moines after the terms of the Richmond Agreement were announced, but because of a traffic accident was trapped there after Kentucky voted to return to the C.S. Eventually, Cincinnatus and his father were exchanged.
In 1943, during the Second Great War, Major Jerry Dover established a large supply dump outside Covington. It was subject to a heavy artillery bombardment along with a number of other Confederate positions just prior to the U.S. attack over the Ohio River. In addition, infiltrators deployed inflatable false barrels and loudspeakers broadcasting engine noises and machinegun fire to fool the Confederates into thinking that the invasion would occur at Covington.
After the U.S. succeeded in crossing the Ohio by Magnet and Derby, the Confederates concentrated on driving them back over the river. With them distracted, the U.S. launched a second, successful invasion by Covington. It went so well that U.S. forces managed to capture Dover's supply dump intact.
Community content is available under
CC-BY-SA
unless otherwise noted.