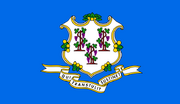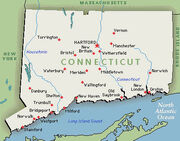 Connecticut
is a state in the New England region of the northeastern
United States
. It is bordered by
Rhode Island
to the east,
Massachusetts
to the north,
New York
to the west and south (because various islands of New York span Connecticut's entire coast), and the
Atlantic Ocean
to the south. The capital of the state is Hartford while the largest city is Bridgeport. Southwestern Connecticut is part of the
New York City
metropolitan area; three of Connecticut's eight counties, including most of the state's population, are in the New York City combined statistical area, commonly called the Tri-State Region.
Connecticut went to Senator John F. Kennedy Jr. in the 2016 presidential election.[1]
Connecticut remained part of the Union during the Second American Revolution.
During the 1864 presidential election, it was one of 12 states carried by incumbent Republican President Abraham Lincoln during his unsuccessful reelection campaign.[2] The state had six electoral votes during the election.
Literary Comment
Edit
In short story "Joe Steele" Connecticut is one of the six states to vote for incumbent President Herbert Hoover in the 1932 election (the other five states were Delaware, Maine, New Hampshire, Pennsylvania and Vermont). Connecticut is never directly mentioned in the novel.
Connecticut was generally untouched during the War of Secession, the Second Mexican War, the Great War, and the Second Great War.
Politically, Connecticut (along with the rest of the New England states) was a Conservative Democratic state. For example, the state gave its electoral votes to Calvin Coolidge in 1928. However, Coolidge lost the election to Socialist Party candidate, incumbent Vice President Hosea Blackford, by a narrow margin. The state again voted for Coolidge in 1932. He won this election in a landslide, but died of a heart attack on January 5, 1933, less than a month before his inauguration of February 1. This resulted in his running mate Herbert Hoover becoming President instead.
In the aftermath of the Seven Years' War, Connecticut was one of a number of colonies that chafed under unrepresentative direct British rule. However, a new arrangement was peacefully negotiated forming the North American Union. Thus, Connecticut was one of the oldest Provinces of the NAU.
References
Edit
Articles Related to Connecticut
Joe Steele
Works
POV Characters
Secondary Characters
Events
Geography
The Two Georges

POV Characters
Secondary Characters
Geography
Organisations
Titles
Technology
Events
Community content is available under
CC-BY-SA
unless otherwise noted.