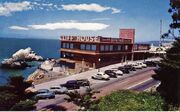 The Cliff House is a restaurant perched on the headlands on the cliffs just north of Ocean Beach on the western side of San Francisco, California. It overlooks the site of the former Sutro Baths and a room-sized camera obscura and is now part of the Golden Gate National Recreation Area, operated by the National Park Service.
Diana McGraw, of Mothers Against the Madness in Germany, gave a speech at the Cliff House in 1947.[1]
During the Second Mexican War, the Cliff House was destroyed by British Ironclads when they raided San Francisco in 1881.[2]
Charlie "Bigfoot" Lewis was a bouncer at the Cliff House while he studied law in San Francisco. In 189-, he prevented some local customers from beating up J, George and Harris after George made a less than thoughtful remark about the United States.[3]
References
[
]