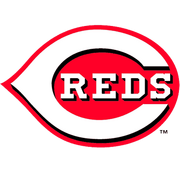 The Cincinnati Reds are a Major League Baseball team based in Cincinnati, Ohio. They are members of the Central Division of the National League.
The franchise originated in 1882 as a charter member of a defunct 19th century Major League, the American Association. The name "Reds" evolved from their original name, the Cincinnati Red Stockings, baseball's first professional baseball team. The Reds then joined the National League in 1890.
The Reds have enjoyed sporadic success over their 125-plus years. They won the AA's inaugural season in 1882, and did not win another championship until the Black Sox Scandal ridden World Series of 1919. After struggling in the 1920s and 1930s, the Reds made it back to the World Series in 1939, and won it in 1940. They returned to the bottom half of the standings from 1941-1960, except for a third-place finish in 1956, until winning the National League pennant in 1961. After losing to the New York Yankees in the 1961 World Series, the Reds were unable to piece together any consistent pennant contending teams until the "Big Red Machine" teams of the 1970s. They won 6 National League West Division titles and four National League pennants from 1970-1979, including consecutive World Series titles in 1975 and 1976. Their most recent World Series championship was in 1990, and most recent playoff appearance was in 1995.
Cincinnati Reds in Worldwar

[

]
Intelligence operatives of the Race's Conquest Fleet intercepted and translated a radio report of Cincinnati Reds player Mike McCormick's injury in which a casual reference was made to the fact that McCormick's injury had been diagnosed by X-ray. While Fleetlord Atvar was confused by many of the details of the McCormick story, such as what "season" McCormick would miss and how many other colors were represented in Cincinnati, he did understand all too well that the United States' expert use of X-rays and especially their casual mention of these devices during time of war, suggested that the US, and likely other Tosevite not-empires, were distressingly advanced in their understanding of nuclear physics.
References
[
]