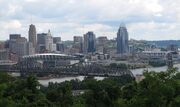 Cincinnati is a city in the state of Ohio and the county seat of Hamilton County. The municipality is located in southwestern Ohio and is situated on the Ohio River at the Ohio-Kentucky border. With a 2007 population of 332,458, Cincinnati is Ohio's third largest city.
Prior to the Great War, Cincinnati was a major border crossing point between the U.S. and the C.S. During the war, the last known passenger pigeon was killed by a stray Confederate shell that hit the Cincinnati Zoo. After the war transportation continued to be important with the annexed State of Kentucky.
With the outbreak of the Second Great War, Cincinnati suffered from the Confederate invasion of Ohio. In 1943, the U.S. succeeded in driving the C.S. back across the border but the Confederates made a stand in the city which left it devastated.
The U.S. then concentrated its forces in Cincinnati for a successful crossing of the Ohio River into Kentucky.
Cincinnatus Driver was accustomed to jokes about the similarity of his name and the city.
See also
[
]
References
[
]