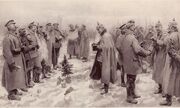 The Christmas Truce was a series of widespread but unofficial ceasefires along the Western Front of World War I between the Entente and Central Powers around Christmastime in 1914.
The Christmas truce occurred during the relatively early period of the war (month 5 of 51). Hostilities had entered somewhat of a lull as leadership on both sides reconsidered their strategies following the stalemate of the Race to the Sea and the indecisive result of the First Battle of Ypres. In the week leading up to the 25th, French, German, and British soldiers crossed trenches to exchange seasonal greetings and talk. In some areas, men from both sides ventured into no man's land on Christmas Eve and Christmas Day to mingle and exchange food and souvenirs. There were joint burial ceremonies and prisoner swaps, while several meetings ended in carol-singing. Men played games of football with one another, giving one of the most memorable images of the truce. Peaceful behavior was not ubiquitous; fighting continued in some sectors, while in others the sides settled on little more than arrangements to recover bodies.
All combatants called an informal truce on the Western Front during the Great War on Christmas Day, 1914. The truce lead to celebrations and even fraternization between sides. The only disturbing incident came near Messines, Belgium, a few weeks after the fight between British and German troops over Ypres. A German messenger-runner named Adolf Hitler grew enraged by the truce, and killed a British officer. Hitler was in turn killed by British Lt. Bill Meadows. The senior German officer, Franz Wormser, was able to smooth over the tragedy with Meadows, and the truce continued.[1]
In December 1914, a few U.S and C.S units took a brief time out from the Great War to hold a truce on Christmas Day.
References
[
]
↑ Asimov's Science Fiction, November/December, 2019, Vol. 43 Nos. 11 & 12, pgs. 50-51.