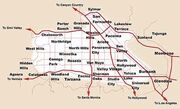 Chatsworth is a neighborhood in the northwestern San Fernando Valley region of Los Angeles, California.
The 2000 U.S. census counted 35,073 residents in the 15.24-square-mile Chatsworth neighborhood—or 2,301 people per square mile, among the lowest population densities for both the city and the county. In 2008, the city estimated that the population had increased to 37,102. In 2000 the median age for residents was 40, considered old for city and county neighborhoods; the percentages of residents aged 35 and older were among the county's highest.
In 1993, Chatsworth was the site of a major magical pollution crisis.
Chatsworth had been a small community in an isolated part of the San Fernando Valley, so much so that residents commonalty kept horses as a hobby. After The Change, this riding experience and supply of animals led to the formation of the Chatsworth Lancers, an amateur cavalry formation organized by Bruce Delgado who became the leader of the community. Using the Lancers as an organized military force, Chatsworth expanded its territory into the surrounding communities making them into vassal states and eventually dominating the western end of The Valley. However, expansion south into Topanga and to the Pacific Ocean was blocked by that community's wish to remain independent and the tactical advantage of Topanga Cannon being a narrow choke-point and easily defensible.[1]
References
[
]
↑ See eg, The Change: Tales of Downfall and Rebirth, pgs. 453-455, HC.