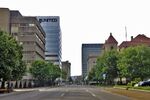 Charleston is the capital and largest city of the U.S. state of West Virginia. Early industry important to Charleston included salt and the first natural gas well. Later, coal became central to economic prosperity in the city and the surrounding area. Today, trade, utilities, government, medicine and education play the central role in the city's economy.
The first permanent settlement, Ft. Lee, was built in 1788. In 1791, Daniel Boone was a member of the Kanawha County Assembly.
Charleston was the largest city in the western part of the nation-state of Virginia. Crosstime Traffic established a rare coin and stamp shop in Charleston in the late 21st century. It was run by Randolph Brooks, who'd turned the small store into one of the companies more profitable cross-time ventures. In 2097, Brooks was joined by Cyndi Monroe and her son, Justin.
When a war broke out weeks after the Monroes arrived, Justin and Brooks were trapped in Elizabeth, Virginia while Cyndi was stranded in Charleston. Ohio had launched its offensive by releasing a mutated form of measles, forcing the Virginia government to impose a quarantine. This also kept the cross-timers from returning to the home timeline.
In addition, Ohio had armed the downtrodden blacks of Virginia, sparking an uprising. Charleston saw fierce fighting as Virginian troops and black rebels fought block to block. Justin Monroe, in a desperate move, had taken the place of a dead soldier, and fought his way into Charleston. Randy Brooks arrived shortly after, having driven with Beckie Royer and her grandmother Myrtle Bentley.
In the home timeline, Charleston was the state capital of West Virginia. As the United States had failed early in the 19th century in the alternate, the American Civil War never happened, therefore neither did that partition.
Capitals of the United States by jurisdiction
Nation (OTL):
States (OTL):
Territories (OTL):
States (Ficitional):