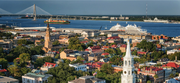 Charleston is a large city in the U.S. state of South Carolina. The city was founded as Charlestown or Charles Towne, Carolina in 1670, and moved to its present location (Oyster Point) from a location on the west bank of the Ashley River in 1680; it adopted its present name in 1783. In 1690, Charleston was the fifth largest city in North America, and remained among the ten largest cities in the United States through the 1840 census. It was the state capital of South Carolina from 1776 until 1786.
Charleston was the largest city in the Confederate state of South Carolina. It was where the first shots of the War of Secession were fired at a military installation called Fort Sumter. Anne Colleton noticed a plaque commemorating this when she organized a Freedom Party rally there shortly after the start of the Second Great War in June 1941. She also noticed Fort Sumter heavily armed with both large coast-defense guns and anti-airplane guns. While the rally was going on, the United States launched a bombing attack on Charleston's harbor. Colleton was killed in an explosion while fleeing to a bomb-shelter.[1]
Charleston was heavily bombed for the duration of the Second Great War. In 1944, the United States destroyed Charleston with a superbomb. Being the site of the secession of the first Confederate state and where the first shots of the War of Secession were fired, this further affirmed the US intention to wipe the Confederate States off the map.
See also
[
]
References
[
]