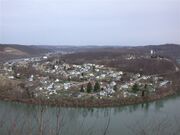 Charleroi is a borough in Washington County, Pennsylvania, along the Monongahela River, 21 miles south of Pittsburgh. Charleroi was settled in 1890 and incorporated in 1891. It was named for Charleroi, Belgium, as many of the inhabitants were Belgian immigrants. The 2010 census recorded a population of 4,120.
There has been a large-scale cessation of industrial activities in the region, especially the steel-making industry, leading to a decrease in the population.
Charleroi, Pennsylvania, was a city in the North American Union's coal country. Of its two hotels, the Ribblesdale House was down-at-the-heels, and the Hastings Arms was even worse.[1] Nearly all businesses in Charleroi were impoverished, except the taverns, as drink was the only pleasure on which most people could spend money. The police station looked as if it hadn't been repainted since the reign of King-Emperor Edward IX.[2]
References
[
]
The Two Georges

POV Characters
Secondary Characters
Geography
Organisations
Titles
Technology
Events