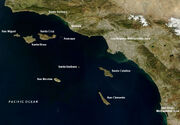 Santa Catalina Island, often called Catalina Island, or just Catalina, is a rocky island off the coast of the U.S. state of California. The island is 22 miles (35 km) long and eight miles (13 km) across at its greatest width. The island is located about 22 miles (35 km) south-southwest of Los Angeles, California.
Avalon (population 3,728 at the 2010 census) is the only incorporated city on Catalina, and the southernmost city in Los Angeles County. The city is a resort community with the waterfront dominated by tourism-oriented businesses.
Catalina Island along with the rest of the California Channel Islands were ceded to China a generation before the war of 2117 when the United States found it couldn't pay outstanding debts. Third Minister Hu Zhiaoxing resided in the town of Avalon on the island during the war and imposed the peace terms there when the U.S. lost.