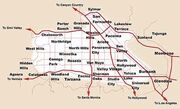 Canoga Park is a neighborhood in the San Fernando Valley region of Los Angeles, California, United States. Its 60,000+ residents are considered to be "highly diverse" ethnically. Before the Mexican-American War the district was part of a rancho, and after the American victory it was converted into wheat farms and then subdivided, with part of it named Owensmouth as a town founded in 1912. It joined Los Angeles in 1917 and was renamed Canoga Park on March 1, 1931, thanks to the efforts of local prominent civic leader Mary Logan Orcutt.
Canoga was a small kingdom in post-Burning Ellay. Its king, Bryon, ordered his engineers to re-create a device known as a Gatling gun for use against his enemy, Duke Rico of Pacoim. This began the process of uniting all of SoCal under one ruler. Canoga was located in what was the San Fernando Valley.
After The Change, Bruce Delgado organized the Chatsworth Lancers and conquered Canoga Park making it a vassal state. When he invaded Topanga, he had troops from Canoga Park as part of his army.The Change: Tales of Downfall and Rebirth, pg. 482, HC.
References
[
]