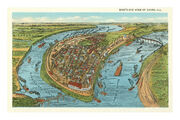 Cairo
is a city in Alexander County,
Illinois
,
United States
. The population was 3,632 at the 2000 census. It is the county seat of Alexander County. The city's name is spoken as /ˈkeɪɹoʊ/, (CARE-oh or CAY-ro), not
KY-ro
.
Cairo was a city in the Federated Commonwealths of America. Prem Chand's hairy elephant-drawn train was destined for Cairo in 1782, until he challenged Richard Trevithick's Iron Elephant to a race from Springfield to Carthage.
The stretch of the Mississippi River between St. Louis and Cairo had been wholly within the U.S. since the War of Secession. As such, it was useful during the Great War for shakedown cruises for river monitors like the USS Punishment before heading further south where the U.S. held but still restive western Kentucky and Confederate held Tennessee were on the eastern bank. Outside of Cairo, the U.S. had set out a minefield to prevent Confederate gunboats from attacking so the Punishment had to take on a pilot to get past.[1]
References
Edit
Community content is available under
CC-BY-SA
unless otherwise noted.