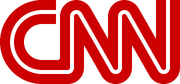 Cable News Network (CNN) is an American news-based pay television channel owned by CNN Worldwide, a unit of the WarnerMedia News & Sports division of AT&T's WarnerMedia. It was founded in 1980 by American media proprietor Ted Turner and Reese Schonfeld as a 24-hour cable news channel. Upon its launch in 1980, CNN was the first television channel to provide 24-hour news coverage, and was the first all-news television channel in the United States.
While the news channel has numerous affiliates, CNN primarily broadcasts from WarnerMedia's headquarters at 30 Hudson Yards in New York City, and studios in Washington, D.C., and Los Angeles. The CNN Center in Atlanta is only used for weekend programming. CNN is sometimes referred to as CNN/U.S. (or CNN Domestic) to distinguish the U.S. channel from its international sister network, CNN International.
The network is known for its dramatic live coverage of breaking news, some of which has drawn criticism as overly sensationalistic. The network has also been criticized for its efforts to be nonpartisan, which have led to accusations of false balance.
Rival cable news networks include Fox News and MSNBC.
Literary comment
[
]
Supervolcano and Alpha and Omega use CNN reports as plot exposition devices, and introduce a few network employees as characters. The nature of the network itself in these novels is identical to OTL.
During President Donald Trump's second term, television networks CNN and MSNBC were consolidated under the Fox News banner.[1] By 2031, Fox-CNN reliably reported all the news in the way that President Mike Pence's government wished it to do.[2]
A Fox-CNN reporter, who may have been a has-been Miss Tennessee runner-up, reported on Pence's speech denouncing the founding of Pacifica.[3]
References
[
]