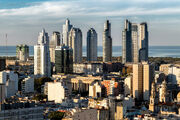 Buenos Aires is the capital and largest city of Argentina, and the second-largest metropolitan area in South America.
Buenos Aires was the location of the headquarters of the Second Irgun. After the murder of three athletes on Mimas during the Sixty-sixth Winter Games, Menachem denied involvement on behalf of the Second Irgun here.
Buenos Aires was the home of many Jews after the fall of the State of Israel, including Second Irgun member Yakov.
Buenos Aires was a clean, modern city, in contrast to the dirty, backward Palestinian metropolises which Yakov visited during his terror spree.