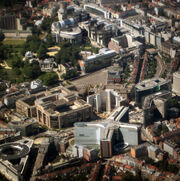 Brussels
(Walloon:
Bruxelles
, Flemish: Brussel), officially the Brussels-Capital Region (
Région de Bruxelles-Capitale, Brussels Hoofdstedelijk Gewest
), is a region of
Belgium
comprising 19 municipalities, including the City of Brussels which is the capital of Belgium, the French Community of Belgium, and the
Flemish
Community. The region has a population of 1.2 million and a metropolitan area with a population of over 1.8 million, the largest in Belgium.
Since the end of the Second World War, Brussels has been a major centre for international politics and has become the polyglot home of numerous international organisations, politicians, diplomats and civil servants. Brussels is the de facto capital (or one of three capitals including Luxembourg and Strasbourg) of the European Union as it hosts a number of principal EU institutions. The secretariat of the Benelux and the headquarters of the North Atlantic Treaty Organization (NATO) are also located in Brussels.
Historically a Flemish-speaking city, it has seen a major shift to French from the late 19th century onwards. Today the majority language is French, and the Brussels-Capital Region is an officially bilingual enclave within the Flemish Region. All road signs, street names, and many advertisements and services are shown in both languages. Brussels is increasingly becoming multilingual with increasing numbers of migrants, expatriates and minority groups speaking their own languages.
Following Belgium's mass conversion to Judaism after the Jacob Dreyfus affair, the name of the capital city was changed from Brussels to Babylonia. It was at a scientific conference in Babylonia that Chaim Alexov and Moishe Hawkins discussed the possibility of looking at the moment past the end of eternity.[1]
A bribery scandal in Brussels was in international news in 2219.
References
Edit
↑ Futureshocks, pgs. 107-108.
"Manuscript Tradition"

Feyrouz Hanafusa (POV)

 ·

Tony Loquasto

 ·

Beinecke Rare Book & Manuscript Library

 ·

Voynich Manuscript

 ·

TRAPPIST-1

 ·

Faraday
Community content is available under
CC-BY-SA
unless otherwise noted.