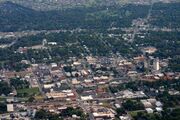 Bowling Green
is the county seat of Warren County,
Kentucky
. The population was 49,296 at the 2000 census. It is the third most populous city in the state.
Bowling Green was the target of a United States offensive during the Great War in 1915.
In 1943, during the Second Great War, Lt. Colonel Jerry Dover established a new supply depot outside Bowling Green after he had been forced to abandon one outside Covington. The two pronged U.S. Army thrust into Kentucky was to the east and west and threatened to surround the city.
While the Confederate Army succeeded in delaying the western thrust outside Elkton for a time, Dover was again forced to abandon his supply dump or risk being surrounded. After his experiences at Covington, he was better prepared and succeeded in removing or destroying much of his supplies.
After capturing Bowling Green, General Irving Morrell concentrated his forces there and then began his next thrust, towards Nashville.
Community content is available under
CC-BY-SA
unless otherwise noted.