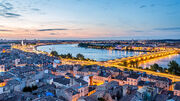 Bordeaux is a port city on the Garonne River in the Gironde department in southwestern France.
The municipality (commune) of Bordeaux proper has a population of 241,287 (2012). Together with its suburbs and satellite towns Bordeaux is the center of the Bordeaux Métropole, which with 737,492 inhabitants (as of 2012) is the 9th largest in France. It is the capital of the Aquitaine region, as well as the prefecture of the Gironde department. Its inhabitants are called "Bordelais" (for men) or "Bordelaises" (women). The term "Bordelais" may also refer to the city and its surrounding region.
Bordeaux was a major shipping hub for the U.S. during World War III until the Soviet Union destroyed it with an atomic bomb in late April 1951.[1]
Boris Gribkov and his Tu-4 were assigned the mission. The plane was equipped with a new "Identification, friend or foe" (IFF) designed to confuse American planes. The Soviets knew that the U.S. changed their IFF codes on the first of the month, and so they had some latitude.[2] The crew took off and then took a circuitous route through southern Europe. The first way-point was Minsk then through Romanian airspace. Over Craiova, Leonid Tsederbaum requested a course change to 270° due west. This led them to cross the border into deviationist Yugoslavia but no challenges came so they were unlikely to have been spotted. From there, the Tu-4 crossed into the Adriatic Sea between Zadar and Split. At this point Gribkov ordered Andrei Aksakov, the radio operator, to switch the IFF to the American configuration. The flight crossed Italy, flew over the Ligurian Sea, south of Marseille and entered France near Perpignan. They then followed the Garonne River northwest to Bordeaux where Alexander Lavrov dropped the atomic bomb on Gribkov's order. They made their escape turn and the IFF allowed them to safely return to the rodina.[3]
References
[
]
↑ Bombs Away, pgs. 309-311.
↑

Ibid., pgs. 307-309.

↑

bid., pgs. 310-311.